Welcoming textile artist Anita Bell to the Contemporary Textile Fair Online 2021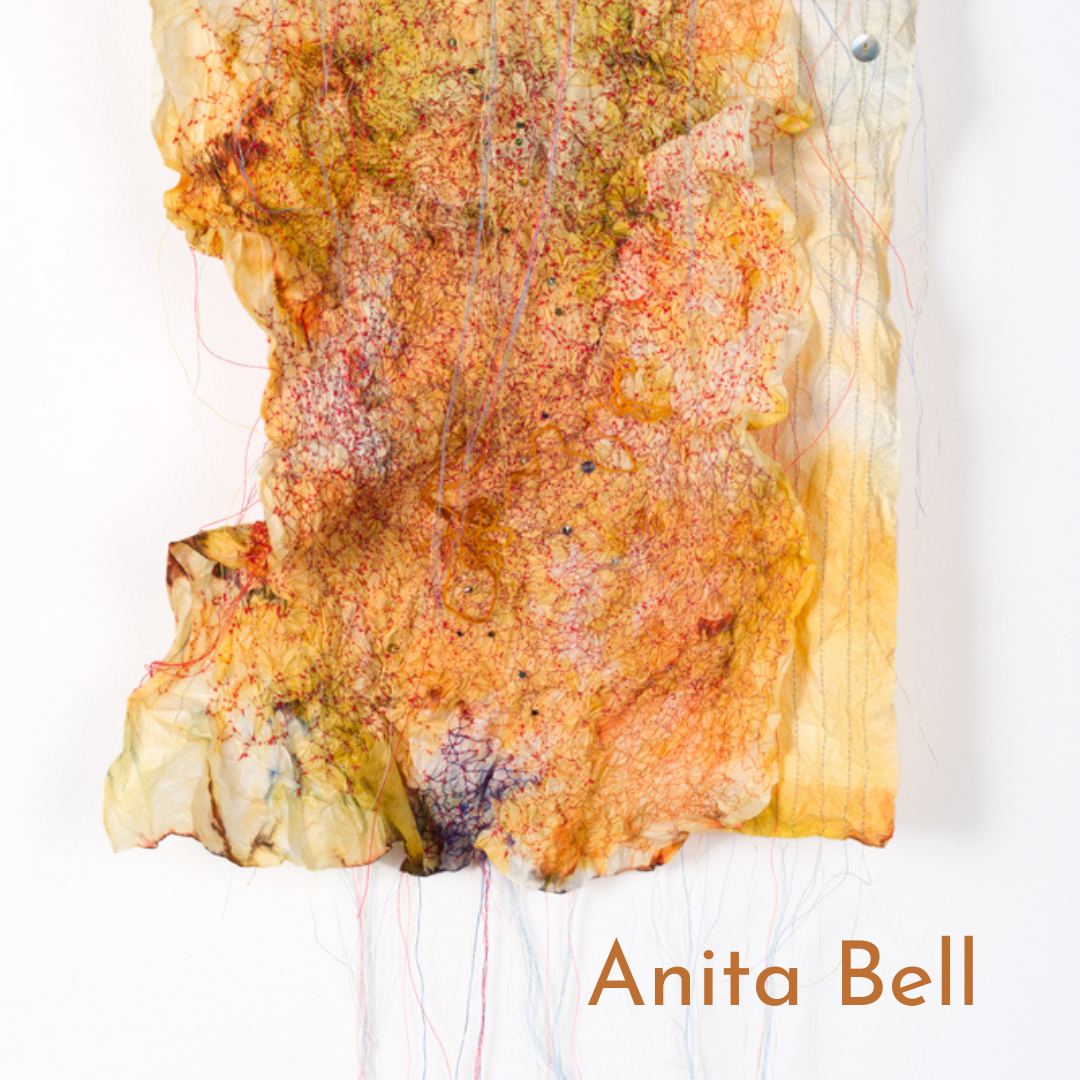 Born and brought up in Portsmouth, Anita attended Portsmouth College of Art and Design and the University of Chichester, leaving in 1997, followed by a Post Graduate Certificate in Education and regularly visits groups and Embroiderers' Guilds giving talks, demonstrations, and workshops.
Anita is a Member of the Society of Designer Craftsmen and IAPMA, the International Association of Hand Paper Makers and Paper Artists whose work has been exhibited widely throughout the UK, Europe, and the USA, and most recently in Shanghai, China as part of the Feasts of Paper Exhibition. Her work is also listed on the Crafts Council Directory.

Past exhibitions include The Winter Exhibition of The Society of Designer Craftsmen at The Mall Galleries in London, The Contemporary Textile Fair in Teddington, the Contemporary Craft Fair at Bovey Tracey in Devon, The Thelma Hulbert Gallery, Honiton, Designer Crafts@Chelsea in Chelsea Old Town Hall, The Oxo Tower, London and Beverly Hills Art Show in Los Angeles, twice winning First Prize for 2D Mixed Media.
Anita creates contemporary stitched paper artworks inspired by the sky, particularly at dawn and dusk. Each paperwork is a one-off piece, created using a variety of papers, often recycled or handmade, painted or dyed and then torn and layered and embellished with stitch.
Anita works by making quick sketches and watercolour studies to try to capture the atmosphere of a fleeting moment in time and reflect the constantly changing light, depicting the essence of something that is caught in an instant, yet in reality, remains elusive and ever-changing.
Watercolour Studies
Using a thin thread as a medium, these ideas are transferred onto paper and details of an imaginary landscape are drawn out using dense lines of stitch that are overlaid like paint, to build up depths of colour.
When not working from home, Anita can be found in her studio in Portsmouth, a lovely lightroom on the 4th floor of the Victory Business Centre with far-reaching views over Portsmouth and the surrounding area. The space has windows on two sides and there are beautiful skies and sunsets to observe throughout the year.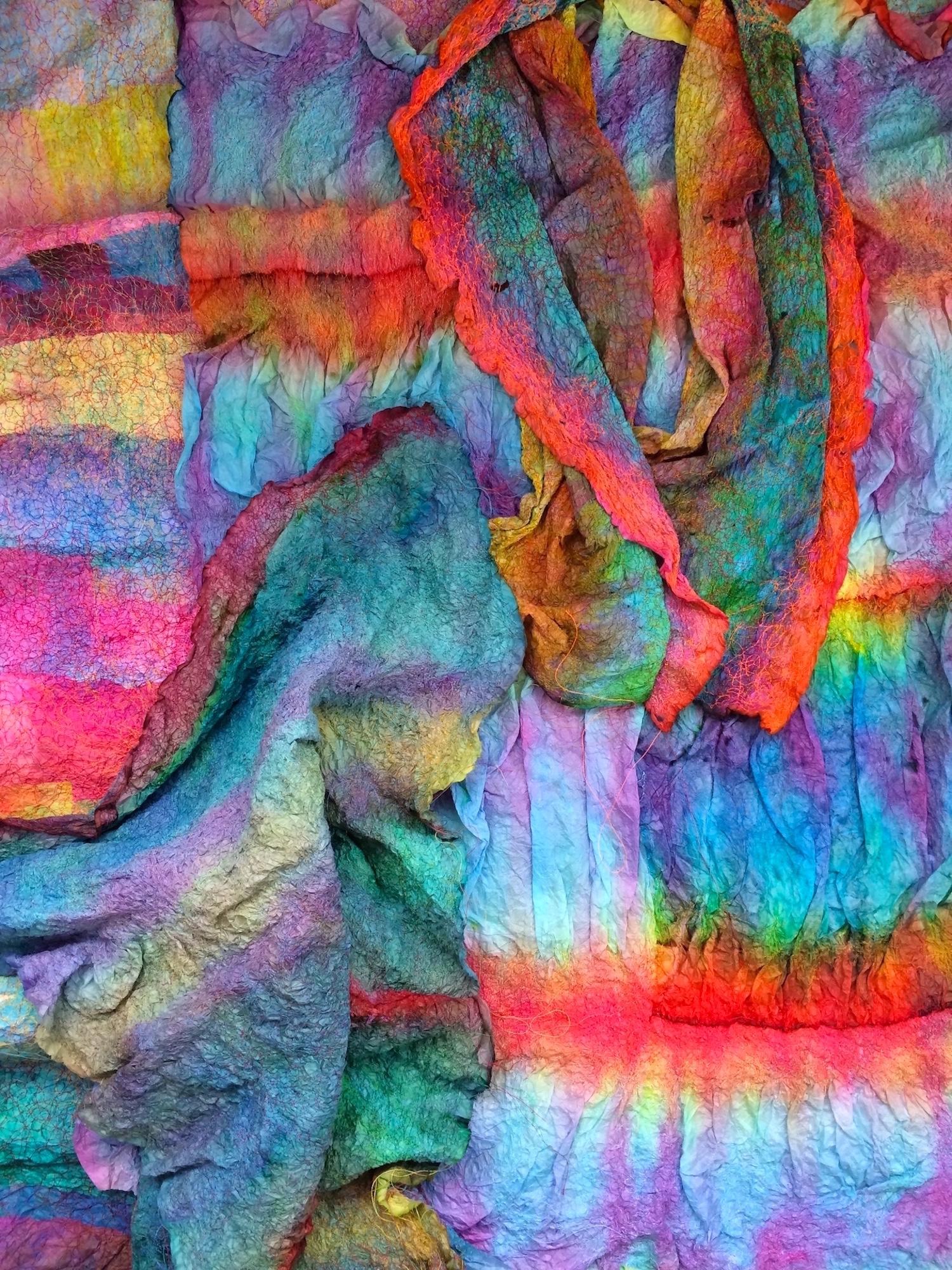 Taking ideas from the myth of Persephone, femininity, and the fragility of nature. Each work is a one-off piece, created using itajime shibori on paper with embroidery to form sculptural paper wall hangings.
Morning Dress, Wall Hanging, Plant paper, and embroidery. 75cm w x 118cm and detail. Photo credit Duncan Shepherd.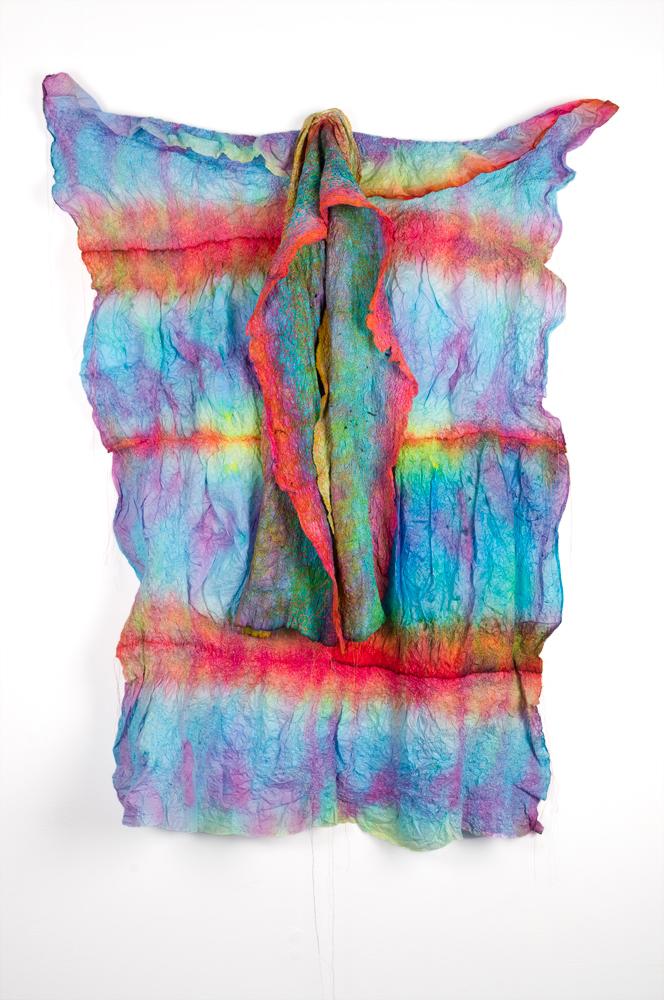 Spring Dress, Wall Hanging, Plant paper, and embroidery. 56 cm w x 96 cm. Photo credit Duncan Shepherd.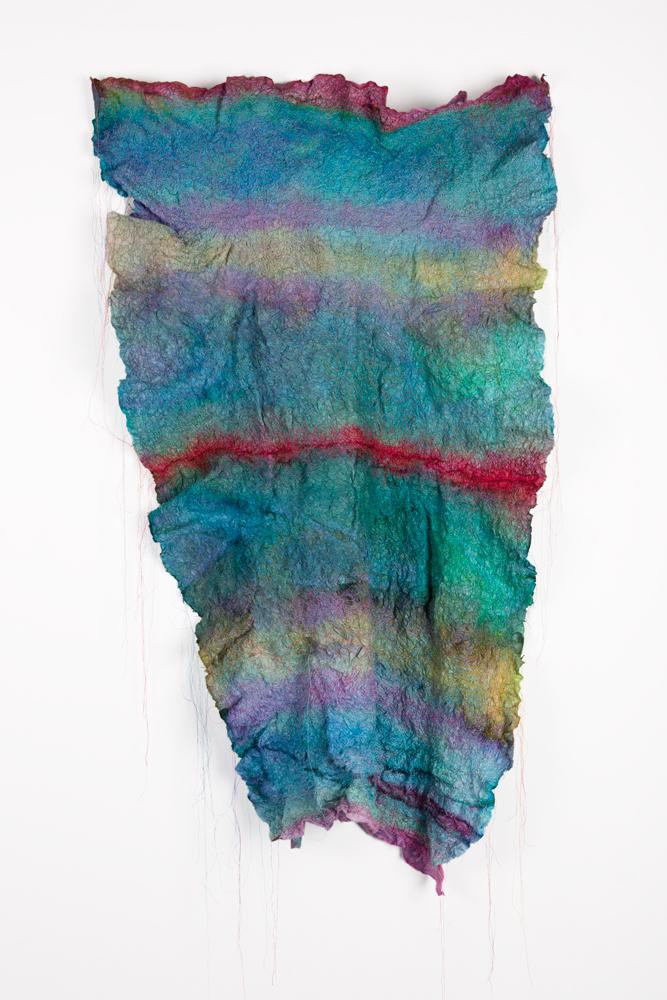 Autumn Bodice. 2019, 30x37cm, Pant paper, watercolour, and embroidery.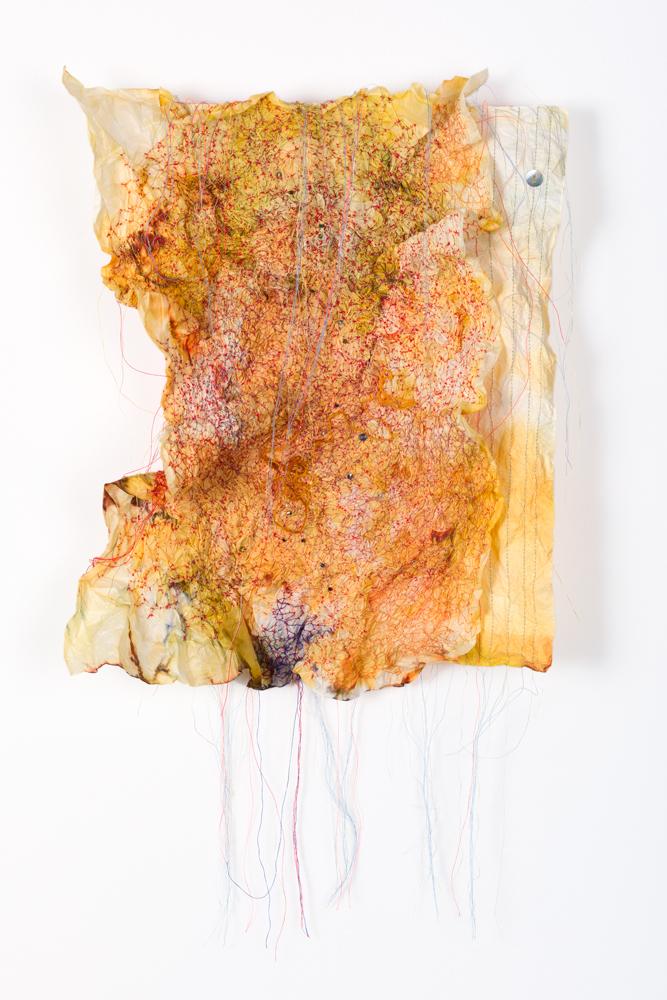 Photo credit Duncan Shepherd. Two details from Autumn Bodice and Autumn Dress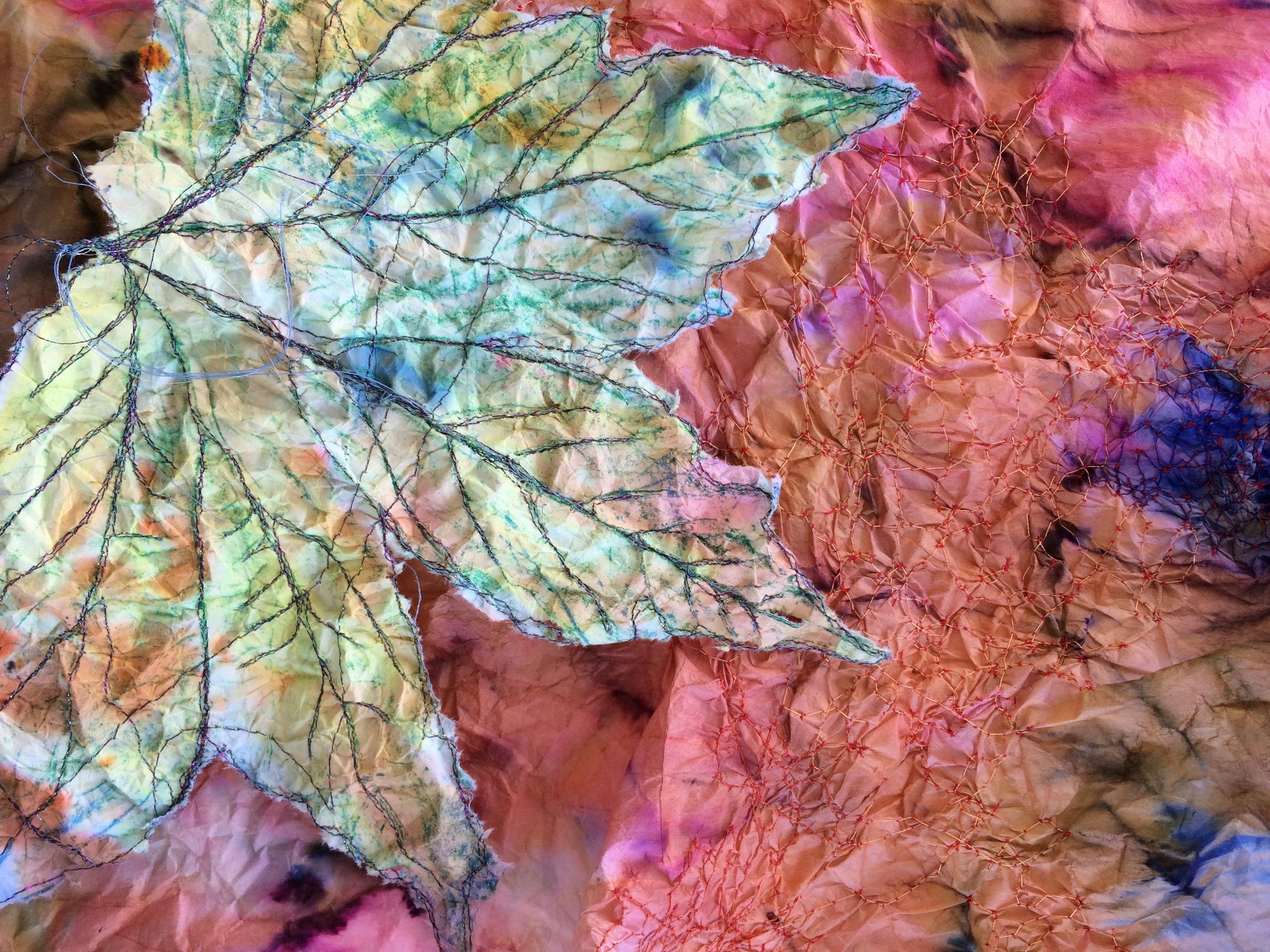 Email: anitabell2@yahoo.co.uk
Website URL: www.anitabellpaperworks.com
Instagram @: @anitabellpaperworks