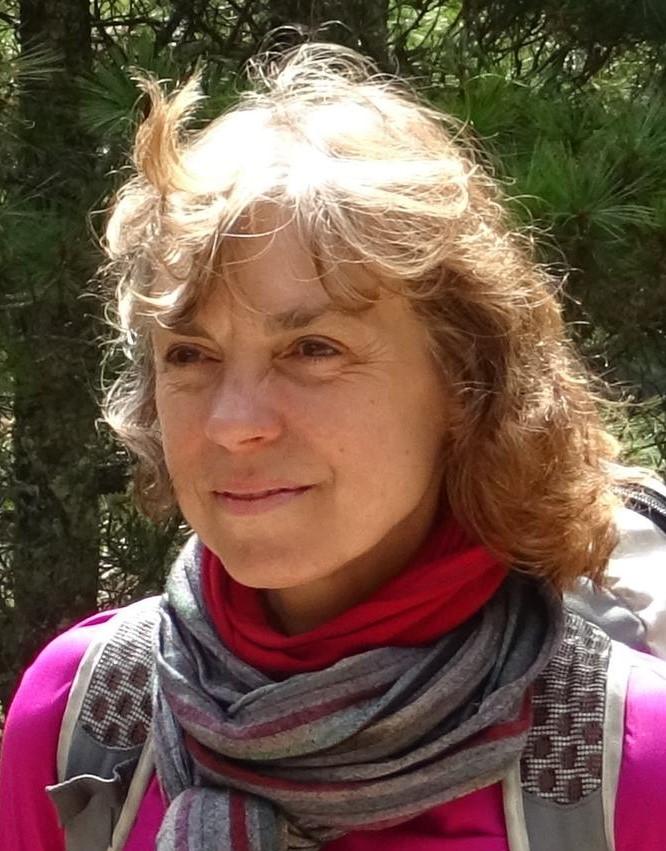 Welcoming artist Margaret Wilmot to the Contemporary Textile Fair Online 2021
Hello, I'm Margaret, an artist painting on Silk, and I live and work in Windermere, Cumbria. I produce paintings, scarves, and other silk goods. As a keen walker, it is a real privilege to be in such a beautiful area.
Q: How did you decide to become an artist/maker, and is art something you have always been interested in? 
A: Though having done the Sciences for A-Levels and degree, I always intended to return to some form of textile art, having enjoyed screen printing classes at school. I saw a demonstration of silk painting at an event in 1995 and knew that was it.  I began myself in 1996 and have since been steadily learning the skills and techniques required.
Q:  Can you describe your work to someone who may not be familiar with it or not seen it before?
A: The great attraction of working with silk is the lustre of the fabric and the vibrant colours of the dyes. Silk is lightweight, soft against the skin, and beautiful to wear.
For paintings, the dye colours together with Batik techniques give a real depth to the designs.
 Most of my paintings I frame simply in the style of an unframed canvas, and I hand roll all the hems on my scarves myself.
Q:  When creating a piece do you already have a vision of what you want to create, or do you normally let the ideas develop organically? What or who inspires you?
A: Inspiration for my work comes from the landscapes of Cumbria, Scotland, and other wild places.  Also the centuries-old traditions and skills of Japan, and a delight in the colours themselves.
 I usually start with a desire to capture a particular scene or fall of the light, but this medium has a mind of its own, so the image develops very much in the flow of the moment. This means of course that each piece is unique.
Q:  What is it about the textiles that excites you the most?
A: Silk Painting is hundreds of years old and has been practised in various forms in several different cultures. This together with the rich history of the great Silk Routes means that I feel very much part of a grand procession, a feeling enhanced by all the skilled work of spinning, weaving, and dye manufacture which produces my materials.
Q:  How do you know when a piece is done and is there ever the temptation to keep working on it?
A: Always requires thought! Sometimes it is obvious whether a piece is finished and sometimes not.
A second opinion from a fresh pair of eyes is helpful, as is also putting the work away for a while and doing something else.
I generally try to stop sooner rather than later and have a think, since once a colour or mark is down, that's it. Experience also helps.
Q:  How have you had to adapt because of the COVID-19 situation, and what are you most looking forward to once restrictions are lifted?
A: Helpfully, I work two days a week for an outdoor clothing company at their shop in Ambleside. So I have been furloughed during the lockdowns - a big relief. Spending time updating my website has been very important and learning to work more online. The opportunity to take part in this Online Contemporary Textiles Fair is fantastic.
After restrictions are over, I'm really looking forward to meeting customers properly at Craft Fairs again. And of course, getting out on the hills again.
Q:  What was the best advice ever given to you as an artist, and following on from that, what piece of advice would you give in turn to someone else?
A: During one of his Reith Lectures, Grayson Perry said that".... Staying on your own particular " bus " for the whole journey is the most important thing for an artist to do, and not be tempted to jump off and join someone else's that appears to be brighter or better than your own..."
So - you have to be determined and keep going, regardless of how it feels! That's the way to find your distinctive voice.