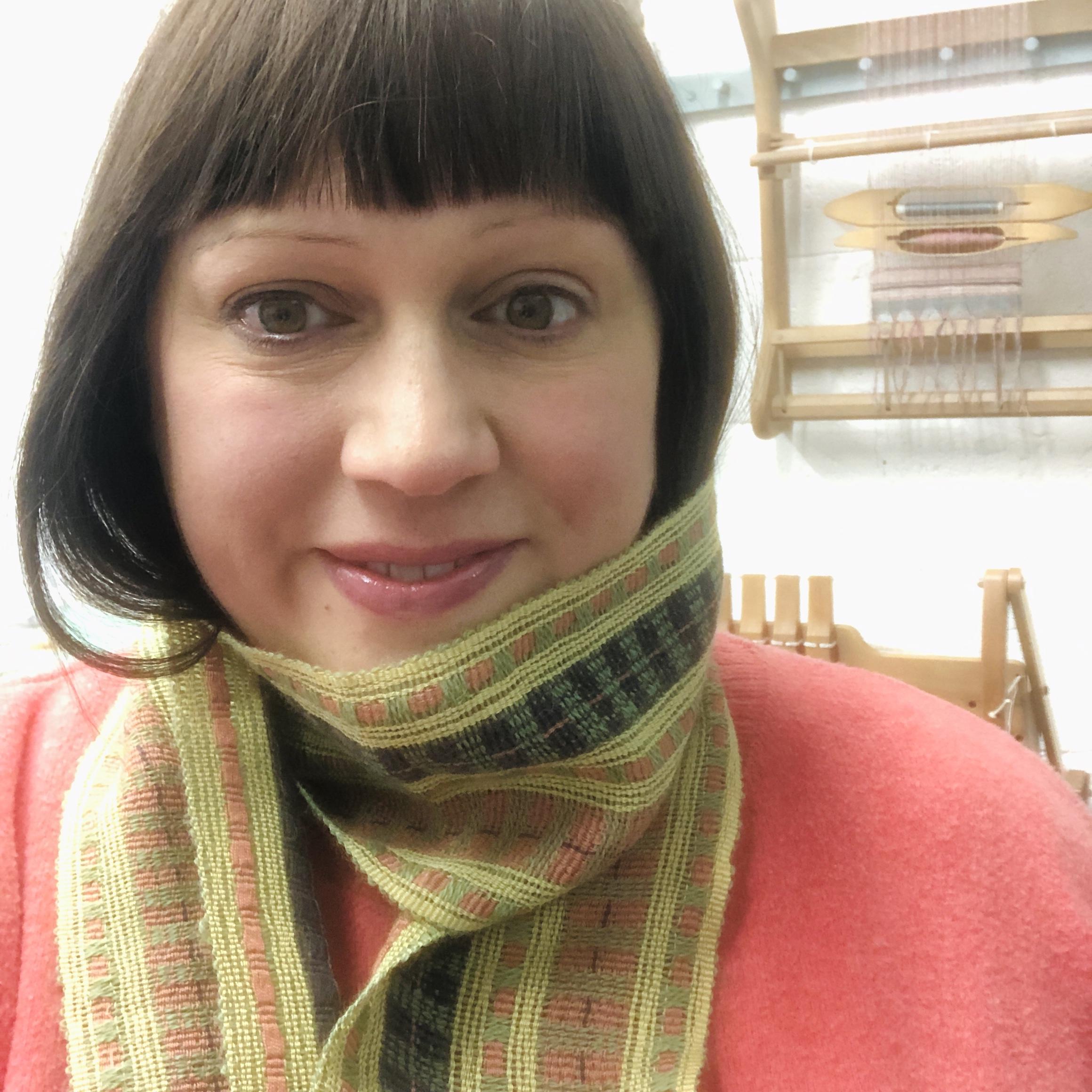 Welcoming textile artist Amy Wilson to the Contemporary Textile Fair Online 2021
Hi, my name is Amy. I'm a woven textile designer and handweaver working from my studio based in Hertfordshire. I offer design consultancy services and make small batch cloth, artwork and accessories collections for fashion and interiors. I sell my products through my website www.lilianetextiles.co.uk and at exhibitions, fairs, and events.
Making is something I have always had an interest in, my mum taught me how to sew and knit as a young child, As far back as I can remember when we spent time together we usually 'made things' My Nana also influenced my creative side, she was a keen fashion enthusiast and knitter. She often shared fashion magazine pages with me, always along with her opinion! and first opened my eyes to the fashion industry.
My work is very varied…I am always visually researching for interesting patterns and textures in nature and in the world around me, such as on my daily journey's. I look for exciting colours and marks that I can express through woven cloth. I love taking photographs and create sketchbooks with the images I collect as a source of inspiration.
I am also interested in the fabric construction process itself, Traditional crafts fascinate me, and I enjoy experimenting with techniques and also sharing these skills by teaching others across a range of weave, dye, and print workshops. My artwork pieces offer another layer again to my practice, I try to communicate emotional elements within my sensory cloth fragments and record my ideas about moments of time.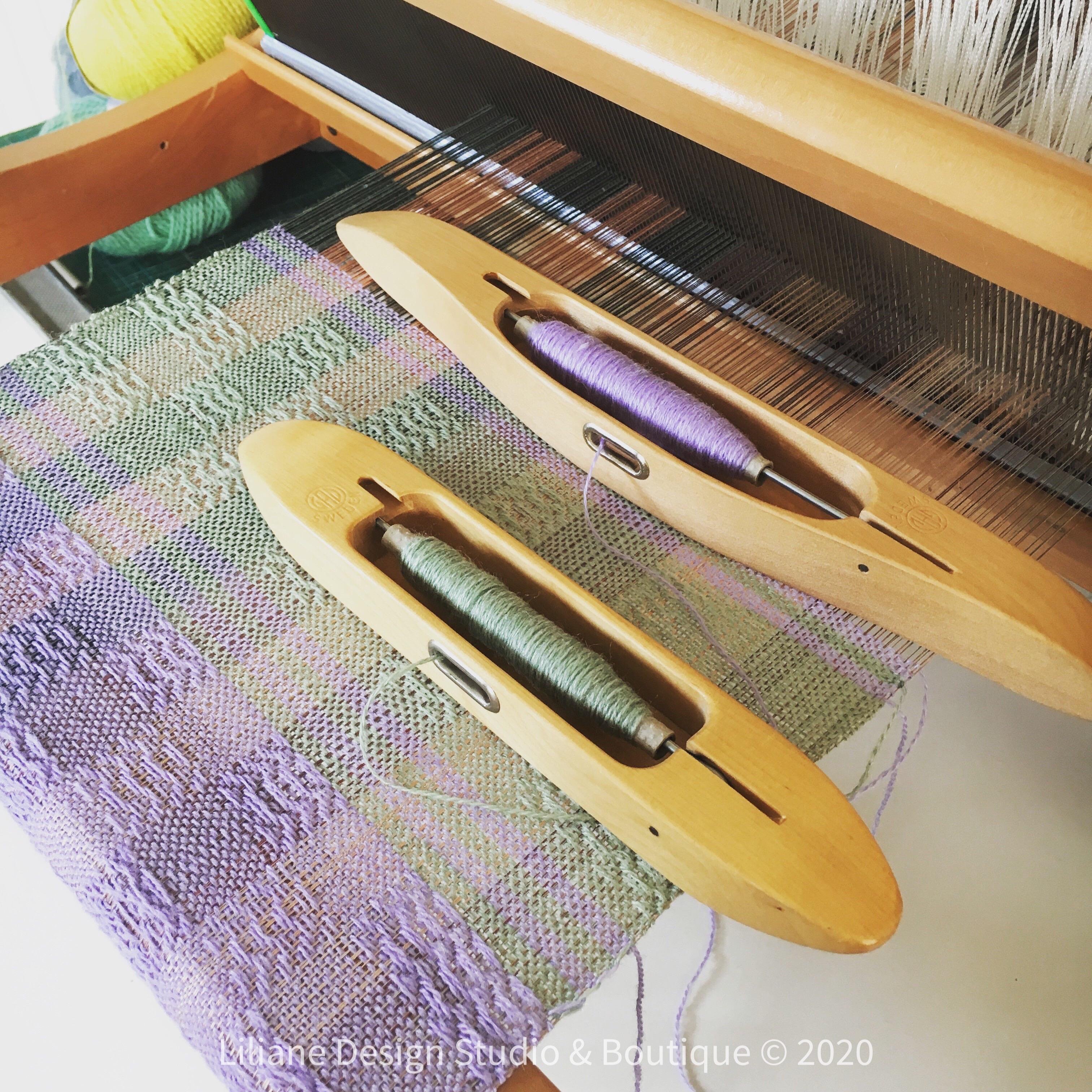 When I make cloth for my bags and home accessories ranges I often use designs woven in strong cotton or slightly felted wool yarns. These more durable fabrics are always well planned out on computer-generated pattern drafts. My artwork and loom-woven wraps and scarves often develop in a more organic way – although these too are made on a warp with meticulously counted and ordered threads.
One of the reasons that weaving is the craft I enjoy the most is the element of mathematical planning, order and precision, that can be combined with wild creativity for endless possibilities!
I work with many natural fibres and source from British producers where possible, often my small batch weaves contain mill end cones and other industrial waste materials. sustainability and the environment are important within my practice and I continue to strive to find ways to improve my ranges to lower their environmental impact. I aim to create long-lasting quality items that can be treasured for many years.
When weaving artwork I often layer yarns in the weft and stitch into my work, although I prefer to maintain an aspect of simplicity in a finished cloth, as I think this ensures the overall feel is calmer, which is another important aspect in my textiles. If I'm creating a woven scarf the way I combine the patterns is intuitive and I look for a balanced design that is pleasing to the eye. I try to keep the finished piece uncluttered.
The woven textile workshops I offer throughout the year have currently moved online due to the current situation with Covid-19. Whilst I'm happy to still be able to deliver workshops and assist people in their weaving journeys I'm looking forward to being able to invite people back into the studio, I miss the buzz of a busy workshop!
Many years ago I attended a lecture when studying textiles, it was all about inspiration and ways of finding it…I can't even remember the name of the tutor, it was over 20 years ago now! But in many ways, this lecture led me to lay the foundations for being constantly on the lookout for developing my own reference library of interesting reference material and starting points for the design process that is relevant to me. My advice to other artists and designers would be simply to make the work that you want to, speak your truth, regularly reflect on your practice and keep a firm focus on the bits that are most important to you.